7 Reasons why Food Couriers are Ditching their Cars and Pedal Bikes, for E-Bikes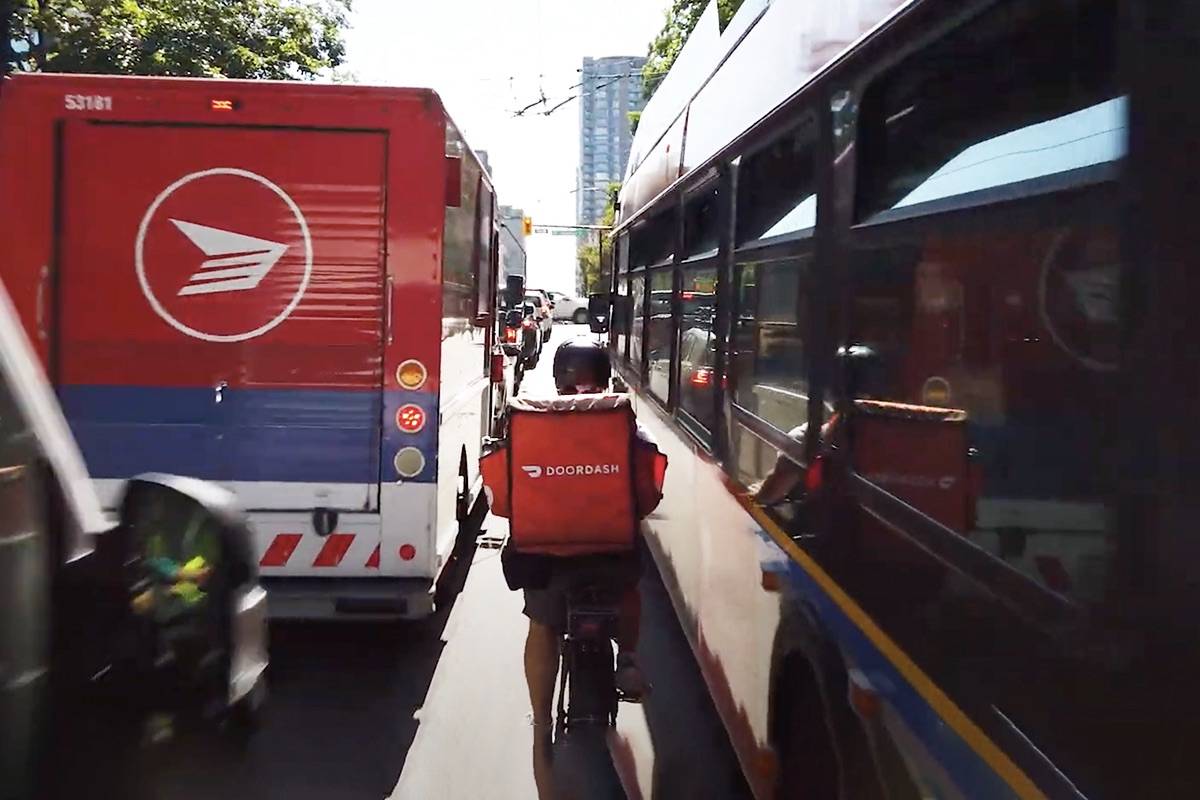 Why Food Couriers are Ditching Cars for E-Bikes: 7 Reasons
At one point, North American food delivery was mainly done with small cars and conventional pedal bikes, and then food delivery apps such as those launched by Uber Eats, SkipTheDishes, DoorDash, and others, made food delivery more easily accessible.
And, with the emergence of the COVID-19 pandemic more people were inclined to order their food and stay home rather than go wait in line outside their local Chipotle or other favorite restaurant or Fast Food pitstop.
There was an explosion of business and when food delivery spiked to new levels, in 2020, Food Couriers began shifting from cars and pedal bikes - to electric bikes. In major cities we're seeing e-bikes are most certainly becoming the vehicle of choice for today's Food Couriers. But, are ebikes popular just because of speed? Please keep reading to find out.

Without further ado, here are 7 Reasons why food delivery reps are ditching their cars and pedal bikes, for e-bikes:


1. Compared to cars, e-bikes are cheaper to purchase and cheaper to operate
When food delivery apps first came out, a lot of Food Couriers opted to use their car because they could travel long distances without exhaustion and ebikes were very expensive. Nowadays, ebikes are cheaper to purchase and cheaper to operate (no gas bills, no pesky oil changes, broken windshields, and no insurance costs).
2. Increase Your Speed and Income
If you're delivering for DoorDash, SkipTheDishes, UberEats or one of the other food delivery companies, an e-bike can help you go faster and further.
For city deliveries, e-bikes are more versatile and if you're on one - you can better utilize alternate shortcuts such as back alleys, park trails, and bike lanes. If you approach car gridlock across an entire bridge during rush hour you can hit the bike lane and bypass the issue completely.
Compared with conventional pedal bikes, ebikes are infinitely faster. If you're delivering food on an ebike and see a hill approaching you say to yourself "no worries, I have an e-bike. This is what I bought this for". You can climb hills faster and easier and pass all the conventional cyclists on your way up.
Let's look at a quick breakdown of this: If the average bike delivery courier normally travels at around 15 mph, but an e-bike can do around 22 mph this means you could be going 46% faster if you replace your normal bike with a Rize e-bike.
If we look at this even more in-depth and consider a long distance trip of 26 minutes, you could be saving 12 minutes per trip! Which would mean, again, more pick-ups and faster completion times = more money in your pocket.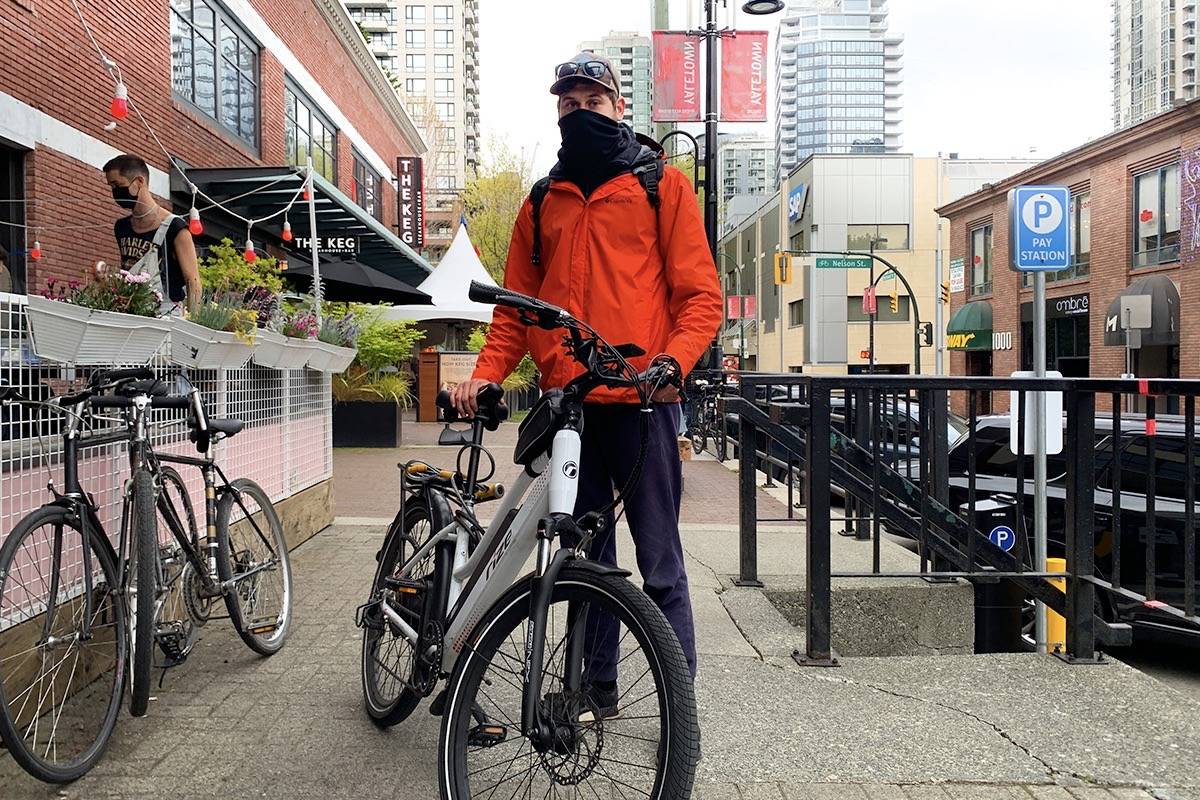 Vancouver Food Courier, John Doria is shown, above, at a Tacofino pit stop with his Rize electric bike.
3. Longer hours
If you're delivering on an ebike, there's no doubt you'll be less fatigued by the end of your shift - compared to regular pedal bike delivery. So, with that extra energy you can work longer and make more money or have a life outside of work and feel fresher at night.
4. Better for the environment
We all know that gas emissions from car usage are one of the biggest culprits when it comes to poor air quality. Well, e-bikes don't require any gas and don't produce any CO2, and there's no oil required to operate the motor.
If you happen to connect to hydro power when charging your battery, like
many
people do on the West Coast, ebikes are a much greener mode of transportation.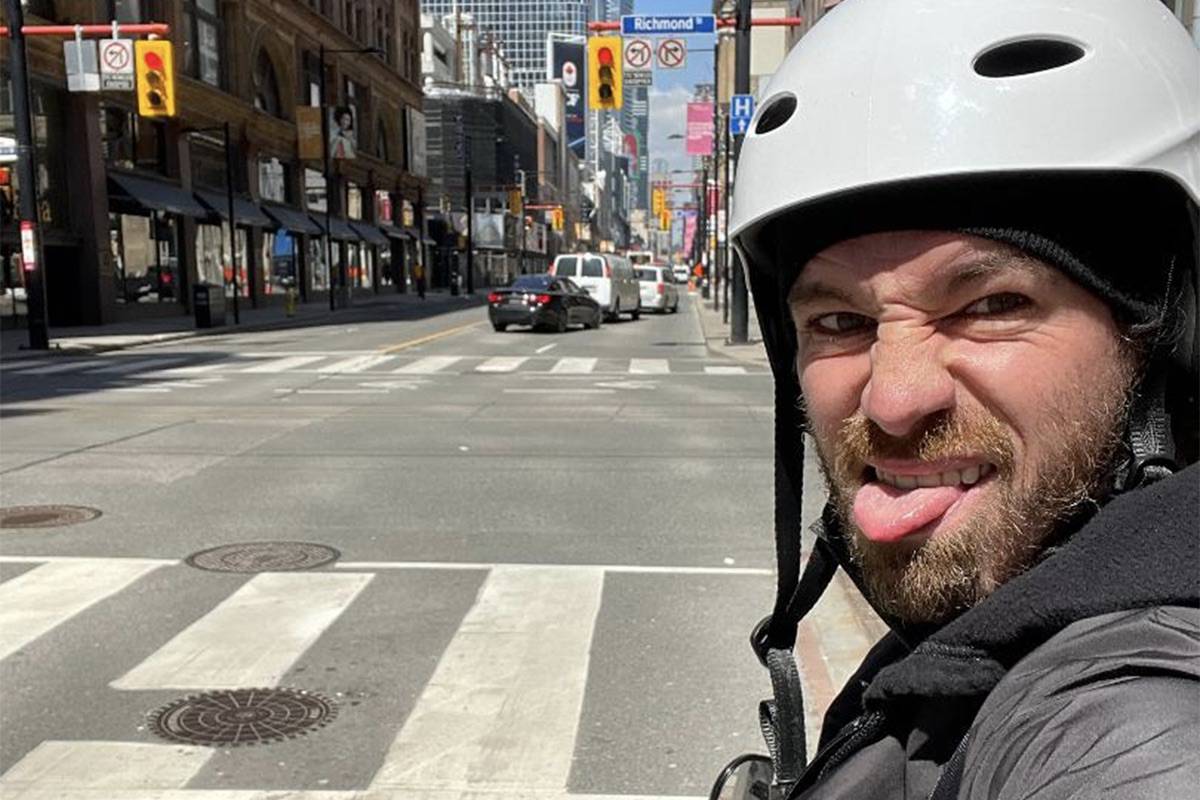 Toronto Food Courier, Matty Powell, shown above, says: "The deliveries have been going amazing since I purchased my Rize Blade. Not only have they gotten more efficient, I'm also having a lot more fun zipping around the city".
5. Easy free parking + no more parking tickets
If you're a food delivery rep driving a car in a large downtown city, you're guaranteed to have issues with parking. You're going to need to circle the block in many cases and you might even end up 5+ blocks away from your pick up location which means a stop like that could require you to walk ten minutes, or more.
And by the end of your shift you might waste more than an hour just dealing with parking and if you happen to get a parking ticket or speeding ticket, then your entire day's earnings could be down the toilet.
6. Ebikes are fun
We've talked about how e-bikes can make you more money and they're better than cars in a variety of ways - but besides all of that, ebikes are just so much fun to ride!
Cruising around with the wind in your face, electric bikes could amount to more Vitamin D and when you hit the throttle your brain will be releasing powerful happy chemicals like serotonin and dopamine. Ebikes are a ton of fun and they're good for your health!
7. Tax breaks and other incentives
Municipalities and Provinces are beginning to introduce tax saving incentives to promote ebike purchases - and more of them are helping people to adopt Greener modes of transportation.
One big example is British Columbia, Canada. On April 21, 2021 that province
officially
announced they will no longer charge their PST tax on ebikes, and that's one more another reason to go electric.
In the province of Ontario, Uber Eats now provides free
insurance
to their employees who deliver on bikes, and that's one more reason to leave the car at home.
Thanks for reading!
To learn more about Rize Bikes, please check out our
website
​and follow us on​ ​
Facebook
and
Instagram​
for​ updates, promos, and product info.
If you have any specific questions, please don't hesitate to call the Rize Sales Department toll-free at: 1-888-600-1545. Phone lines are open Monday-Friday 9am-5pm PST or email support@rizebikes.com.
RIZE BIKES is based in Vancouver, BC, and we're a Direct-to-Consumer company which means you can purchase directly from us. We're getting ready to release 15 newly designed models that largely offer dual battery configurations which will allow riders to travel an up to 200 kms using the pedal assist function, which is revolutionary for the industry! If that isn't enough, RIZE is becoming well known for its torque sensors which measure how hard you're pedalling and automatically adjusts your motor to offer just the right amount of help. Additional features like fenders will guard you against rain, snow, and/or mud. We also offer free water bottle holders and rear racks on most models, as well as dual suspension on select models.