COVID-19 Update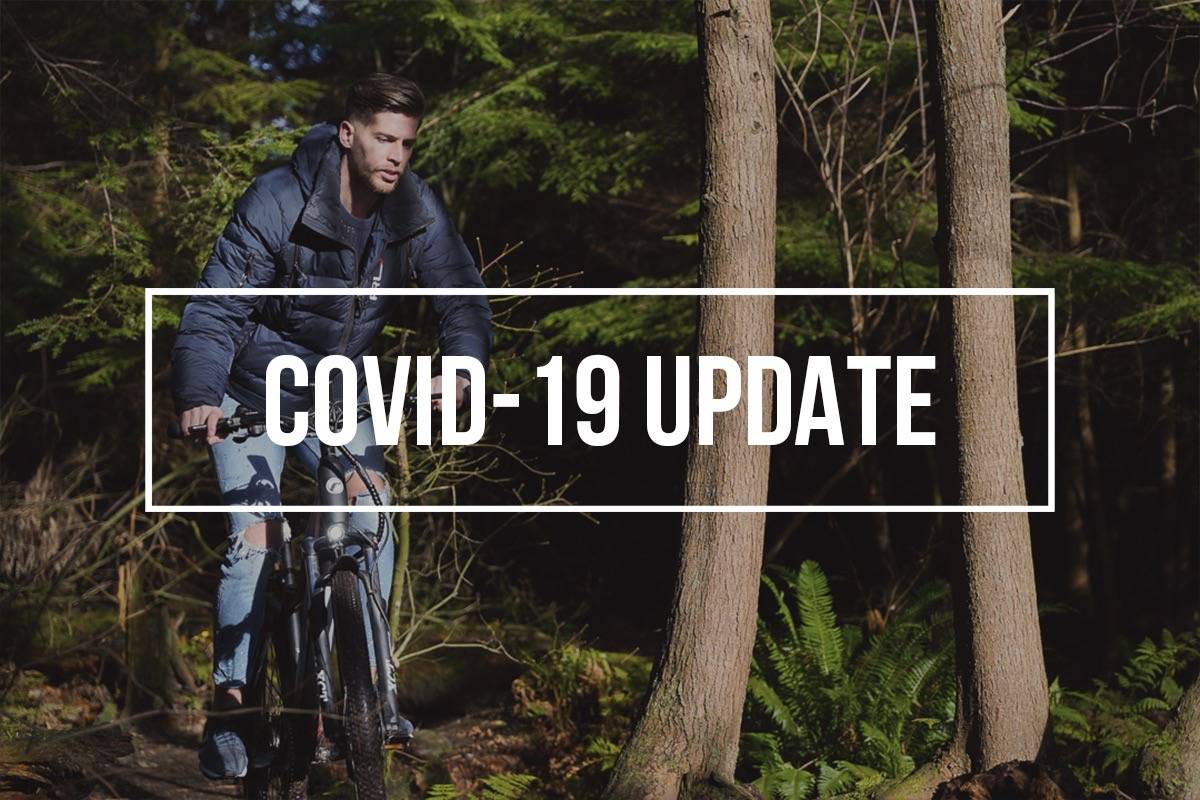 Hi everyone, we hope you're doing well and staying healthy. It's been more than a year since COVID-19 impacted our lives and we thought we'd post a quick pandemic update.
Health
Rize's CEO, Ace Samurai, contracted COVID-19 and quarantined for the mandatory time limit, in Vancouver, this past April and early May, 2021. He and his entire family contracted the virus but they are all fine, now, and doing great. Many of the workers, at our overseas factory, have unfortunately experienced loss and setbacks with the virus, and we're grateful to each of the workers there. The remainder of our employees at Rize HQ have been healthy and safe.
Shortages
The current pandemic has resulted in a massive demand for electric bikes and as a result, we're currently sold out of twelve of our thirteen 2020 models at our Canadian website, and we're currently sold out of ten of our current models at our U.S. website. Customers are now pre-purchasing our 2021 Rize models which are scheduled to be delivered Summer 2021.
Production setbacks
Within the e-bike and general bicycle manufacturing sectors, there have been numerous production setbacks over the past year and a half, which has resulted in worldwide shortgages and shipping delays. And, it has been a ripple effect starting from metal and plastic producers all the way through to parts manufacturers. Pre-pandemic, we were able to order brakes from third party manufacturers and receive those brakes within months, but now those orders are expected to take an additional 12-months. So, on the upside, our Rize electric bikes are selling like hotcakes and we can't keep them in stock. The downside is future inventory will be impacted, and we're just not sure how long the shortgages will last.
Showroom hours
We currently have one Demo Center open in Richmond, Canada, and we hope to expand to multiple locations over the next 24-months. Beginning in early 2021, we were forced to limit our public hours and we're now serving the public through that location, by-appointment-only. Part of the reason for the showroom restrictions is we want to adhere to Government restrictions that require us to enforce social distancing measures. Here's the COVID-19 announcement on our Rize Bikes Google Canada listing:
"
Due to COVID-19 protocols, the Rize Bikes Showroom will be closed to walk-ins, and we are only accepting appointments Tuesday to Friday from 12pm-5pm. Please book an appointment via
this
URL
or call us at 1-888-600-1545. We apologize for the inconvenience. Thank you! -Team Rize"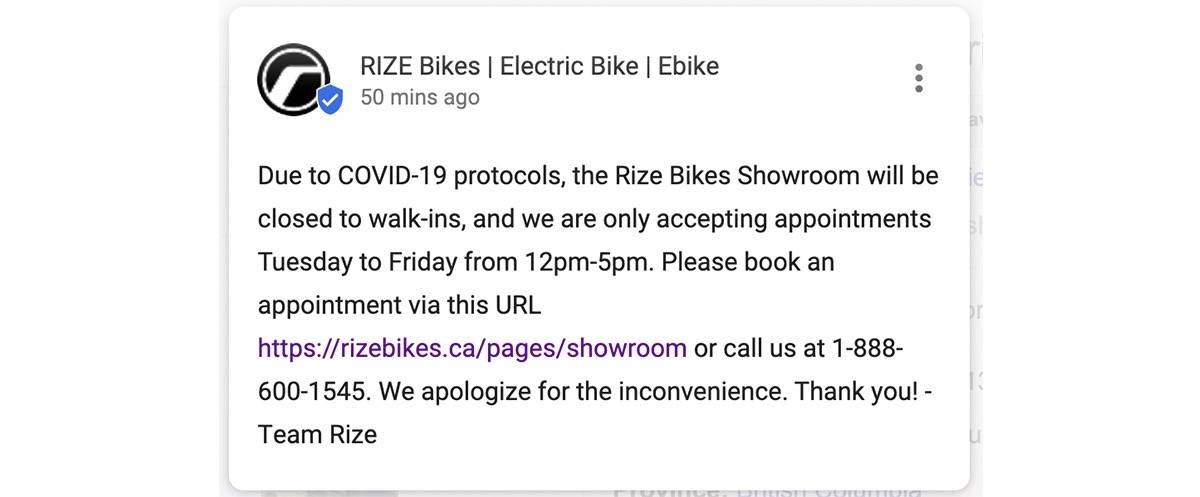 We realize this current pandemic has been an inconvenience to many of our customers and we want to take this time to communicate our appreciation for every single customer. We'll be sure to post future updates and will keep you informed.
Thanks for reading!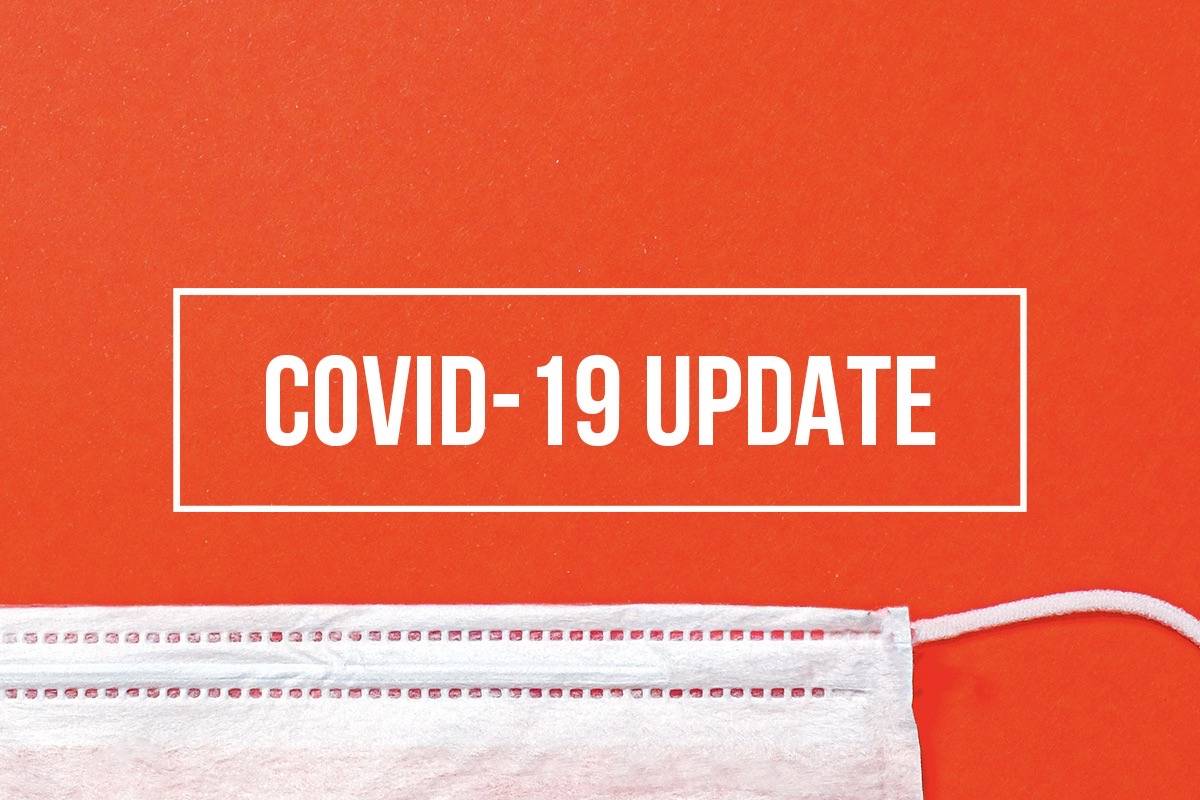 To learn more about Rize Bikes, please check out our
website
​and follow us on​ ​
Facebook
and
Instagram​
for​ updates, promos, and product info.
If you have any specific questions, please don't hesitate to call the Rize Sales Department toll-free at: 1-888-600-1545. Phone lines are open Monday-Friday 9am-5pm PST or email support@rizebikes.com.