eBike vs Regular Bike: What's The Main Difference?
Did you know? The number of bicycle riders grew in the U.S. from about 43 million in 2015 to 52 million in 2022.
Even though the number of cyclists may be smaller in Canada, we still have more people starting to ride a bike every single day.
This is why the topic of ebike vs regular bike is coming up more and more these days. While using the traditional bike is still popular, the market to get e bikes Canada products are getting attractive.
But which one is right for you? Let us go over the comparison between ebike VS regular bike for you. Enjoy!
Key Differences Between E-bikes and Regular Bikes
The average person might not realize that an ebike is not a regular bike at all. Other than the motor that it is located below the bike frame, they more or less look like a normal bicycle.
The main difference between an ebike VS regular bike is that an ebike will allow you to bike far distances without needing to pedal at all.
This is all thanks to the ebike motor which helps pedal easily. Electric bikes all come with a rechargeable battery pack that can go up to 90km on a single charge.
Our Rize Bikes battery have all been certified by CBSA as well. So, you can be certain that you are buying a quality ebike that is safe to use at all times.
Are E-bikes Worth the Investment?
Ebikes are 100% worth it if you are someone who wants to take biking to another level. For the casual bikers who cycle once every few months, you are better off using a regular bike.
For example, our Rize Bikes models such as our fat tire electric bike are popular among those who like to ride on rocky terrain. On the other hand, our commuter electric bike is ideal for those who like to cycle on pavements for their daily commute.
If you're looking for a good deal on an ebike, definitely try our ebike models for sale from Rize Bikes! We only sell quality electric bikes to our valued customers.
E-bikes and Regular Bikes: A Side-by-Side Comparison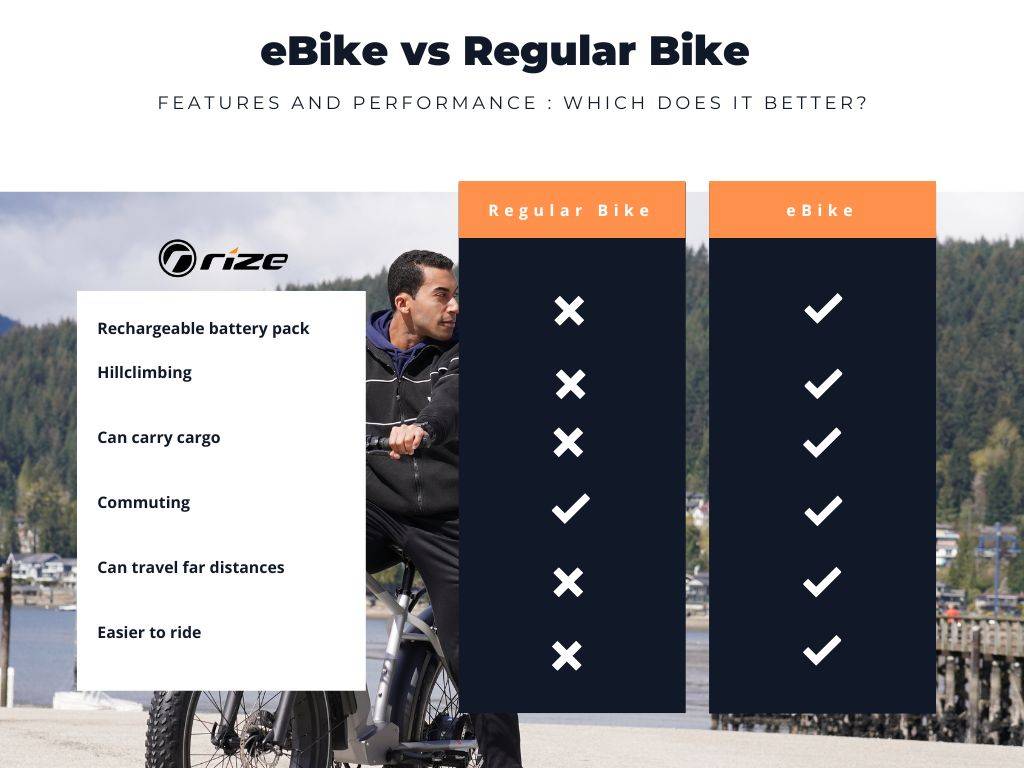 If you rather read the pros and cons, here's a comparison of some key features and performance factors for e-bikes and regular bikes:
E-bike Features & Performance
- The electric motor that provides pedal assistance

- Rechargeable battery
- Longer range
- More powerful
- Ability to do hillclimbing
- Being able to carry cargo effortlessly
- Commute far distances without feeling tired
- Having the opportunity to go further into your city to explore

- Different modes for adjusting the level of assistance
- Provides pedal assistance, making it easier to travel further and tackle hills

- Ideal for commuting, long-distance rides, and those with physical limitations
Regular Bike Features & Performance
- Pedal-powered

- Lightweight
- Lower cost
- Requires more physical effort to pedal
- Provides a more challenging workout

- Limited to the rider's physical ability

Final Thoughts on eBike vs Regular Bike
The best bike option for you will be based on what you want out of a biking experience.
As you can see, an ebike has just as many advantages as a regular bike. However, an ebike will just take you to a whole new cycling level that you never knew was possible.
If it is, we can promise you that you will not regret your decision in getting an electric bike. With the ability to ride long distances without getting tired, the possibilities are just endless on the types of places you can see!
Have you been thinking of buying an ebike of your own? Check out our selection of electric bikes at our store today. We even have the option for you to test drive our bikes if you live in the Vancouver area in Canada.
Check out more blog posts