What To Look For In An eBike?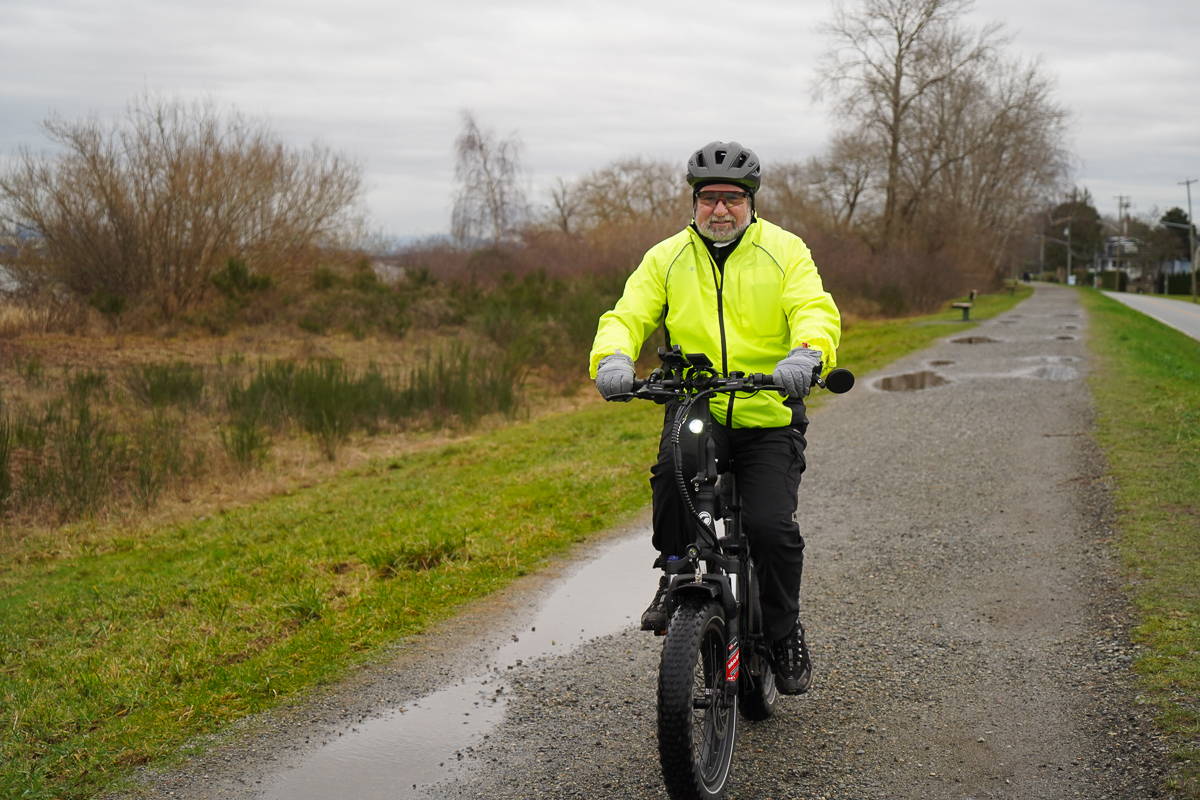 Allan (above) proudly riding his Rize Mini.
What To Look For In An eBike
What To Look For In An eBike? If you want to buy an e-bike but you're not sure about which one to choose, you're in the right place!

Let us be your guide in selecting the perfect e-bike for your needs and your lifestyle! Even if you've never ridden an e-bike or don't know where to start, there is an ebike out there for you and we can help you find the right one!
A great first step in choosing your electric bike is to ask yourself a few simple questions, like: When would I ride my e-bike? And, of course, where would I ride my e-bike?
4 Keys Things To Look For In An eBike
You want a great bike you can bring anywhere.

If you are someone who is always on the go, if you live in a small space, or if you want an e-bike you can transport anywhere, a folding electric bike might be good for you.
Folding e-bikes have all of the amazing features of other e-bikes with the added bonus of folding up compactly.
If you've ever tried to put a full-size bike into your car, you can probably imagine why a folding e-bike would completely change the game, and Rize's two folding bike models fit in most car trunks with no need to move the back seats.
In terms of features, folding e-bikes like the Rize Bolt X come equipped with wide tires (4") for added traction and stability to maximize your outdoor adventures. Imagine the convenience of being able to bring your e-bike on a hike, in a kayak, or store it in your tent when you go camping.
When you ride a folding e-bike, the size of your bike will never hold you back. The Bolt X is also extremely impressive and rides a little more like a BMX bike, with a lower profile. With its narrower wheels (3.3"), it's perfect for booting around the city or the country.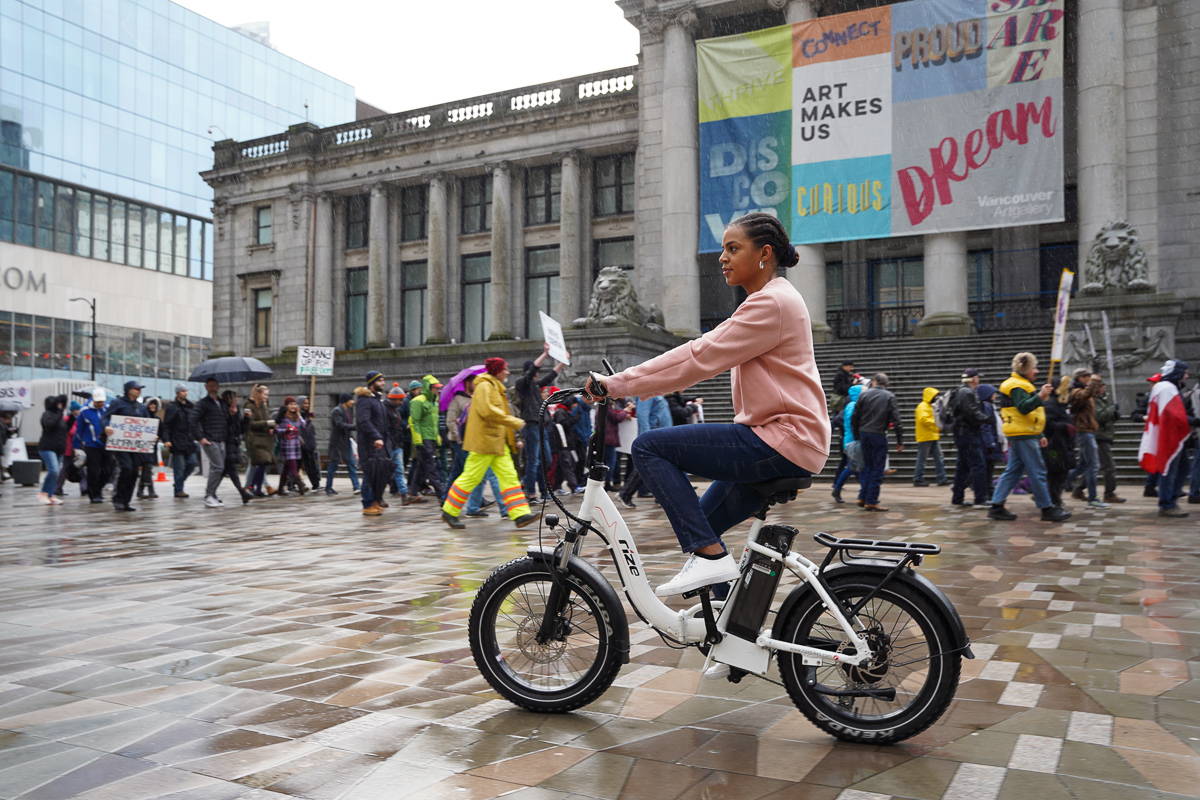 Zaida (above) riding the Rize Bolt X, in the rain.
You want to make the most of biking in your city.
When you imagine yourself riding your first e-bike, do you see yourself cruising through a city using your bike to help you get around town, run errands, or visit your friends?
If so, our City Bike might be a good fit for you.
This is a step-thru bike, making it easy to get on the bike without having to lift your leg up too high.
Because Rize e-bikes come equipped with pedal assist, they'll allow you to ride longer and further, and explore new parts of town.
If you live in a city, you might not have easy access to a garage or places to store your electric bike.
The City e-bike is outfitted with a secure lock feature that enables you to set an access code on the LCD screen, giving you peace of mind that your bike will be safe wherever you store it. Finally, City e-bikes work especially well on flat terrain, making them the ideal ride for your city's bike lanes.
There are just so many benefits to riding an ebike... the possibilities are endless!
You want to take your biking adventures off-road.
If you want to use your e-bike to take your outdoor adventures to the next level, you'll need a sturdy, reliable e-bike that is up for the challenge. To handle rough terrain and bumpy rides, consider an off-road e-bike.
The Rize Bike is ideal for all rides and is excellent for road, terrain, and mountain biking. With its powerful motor and long-lasting battery, you can feel confident that your off-road Ebike will get you where you need to go, even if you have to take a less conventional way to get there.
Our ebikes was also specially designed with a rear motor and front suspension to keep you safe and provide a reliable ride. If you see yourself using an e-bike for off-road use, set yourself up for success by investing in a bike that fits your needs.
Off-road electric bikes are designed, calibrated, and tested to deliver a superior riding experience, particularly if you plan to bike off-road. Additionally, if you are someone who wants to get out of the city and explore nature a bit more, an off-road Ebike would be great for you.
You'll climb steep hills with ease and handle bumps without a problem, making your riding experience more enjoyable. If you want to level up your mountain biking, consider the Rize RX or the Rize RX Pro.
These e-bikes are the ultimate choice for serious eMTBs, as they are powerful, fast, durable, and strong enough to dominate any terrain or trail.
You want a stylish bike that suits all your riding needs.
If you want a unique e-bike that you can ride pretty much anywhere, you're in luck. The Liberty retro-style e-bike rides just as good as it looks and allows riders to experience class and luxury with its new classical modern design.
Exceedingly comfortable and easy to ride, this electric bike is a great option if you want something that is versatile and looks sharp.
A few other recommendations: The Blade is one of the most stylish, beautifully designed e-bikes on the market. Its abstract design features many practical elements, such as added storage.
With either the Liberty or Blade, you can use your new e-bike to express yourself, explore new places, get a workout, and more. Even more classic looking e-bikes, like the Leisure and the Leisure Step are expertly crafted to get you anywhere on a sleek e-bike that offers a comfortable riding experience.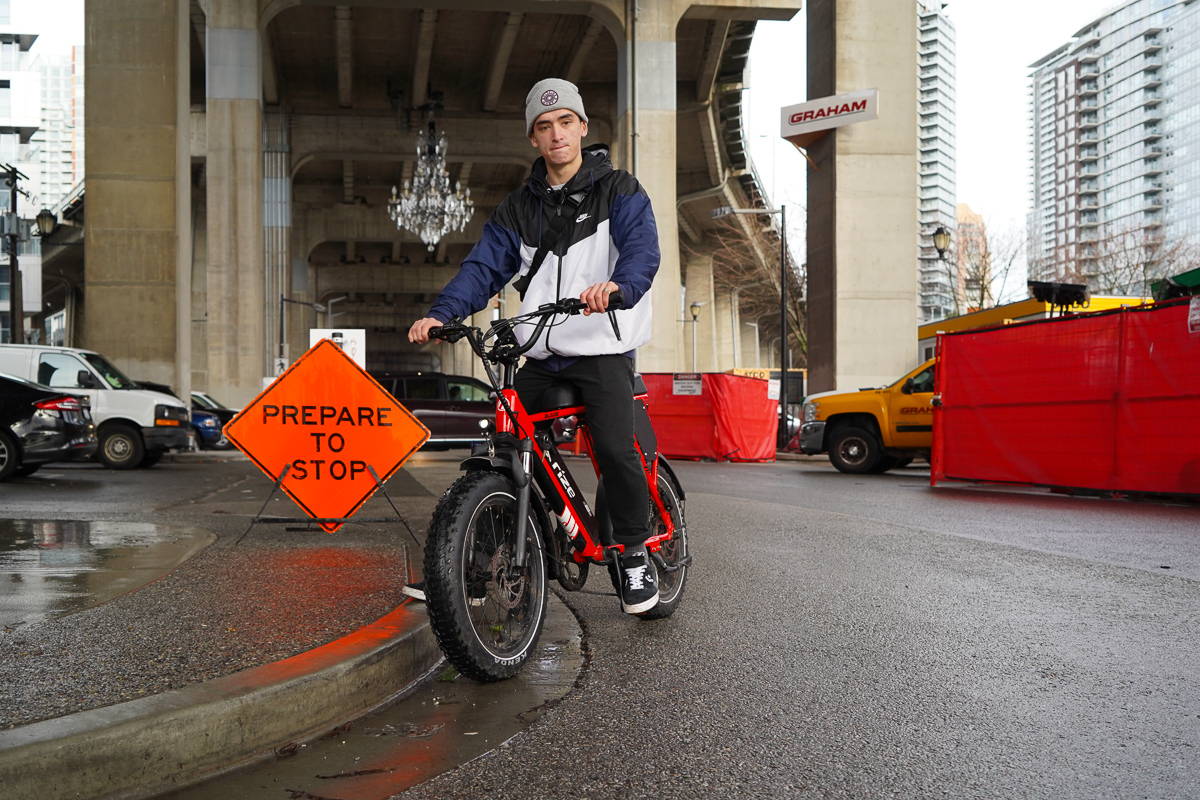 Austin (above) with the Rize Blade.
Why Rize Bikes?
With many e-bike manufacturers on the market, how do you know that Rize is the right brand for you? The answer is, Rize Bikes are designed by a talented team of engineers.
Rize also provides excellent customer service, fast delivery, and unbeatable prices thanks to its direct-to-consumer pricing. The Rize Bikes team is happy to answer any questions you might have and we'd love to help you find your perfect e-bike match.
Finally, Rize Bikes supports a mission bigger than itself and wants to make the world a better place, by reducing automobile-created pollution, and creating a greener planet.
If you're ready to commit to purchasing an electric bike, check Rizes' line of electric bikes at www.rizebikes.ca and follow us on Instagram and Facebook for cool updates, promos, and product info.