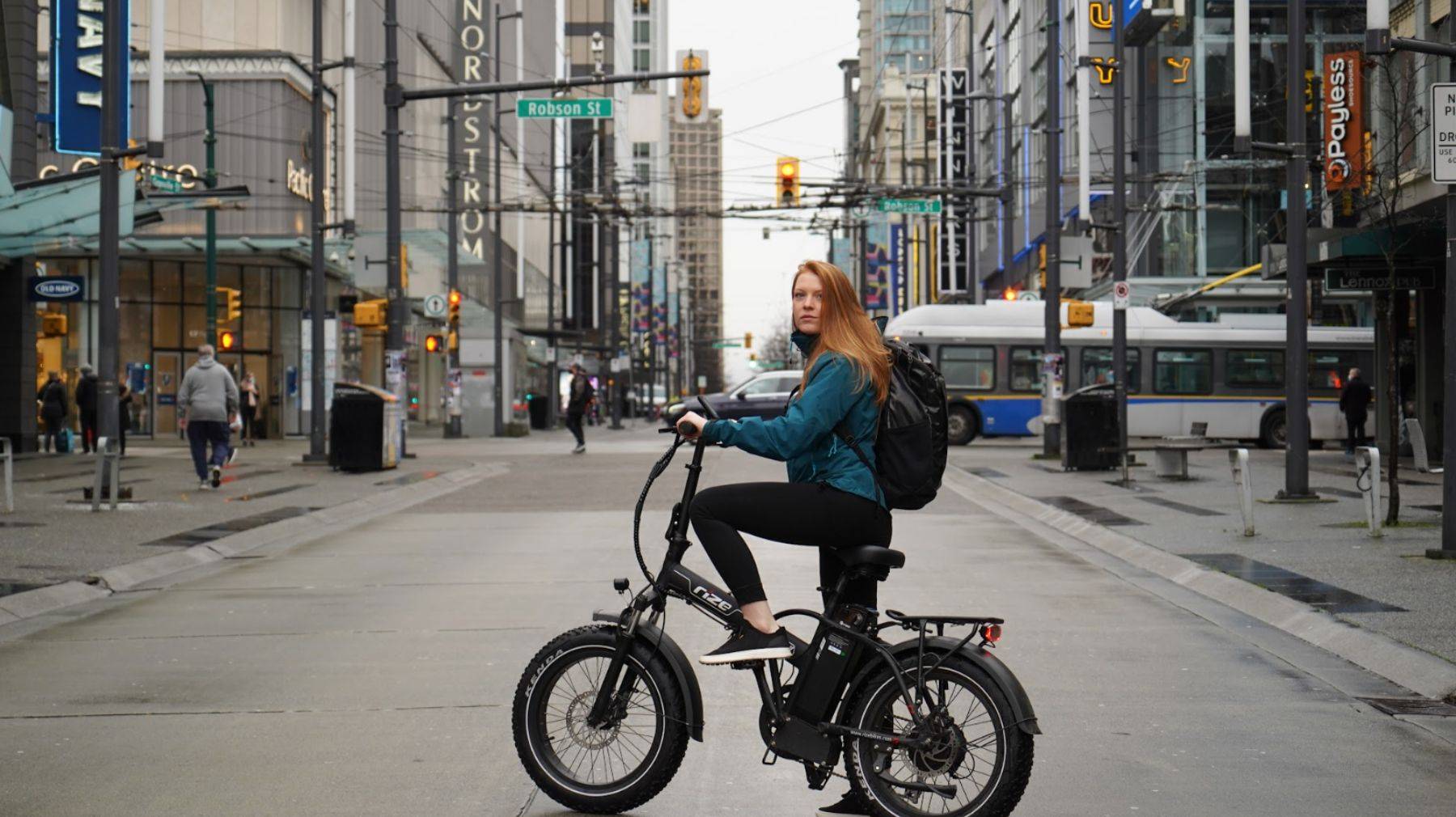 The Best Electric Folding Bike
Are you looking for the best electric folding bike that money can buy? Whether you're looking for an alternate mode of transportation or you're interested in a better way to get around town, an electric folding bike strikes the right balance of convenience and mobility.
And because a foldable ebike will fold up when you're not riding, you can take it inside with you when you get to your destination, which means you don't have to do the lockup dance or worry about your electric bike while you're inside.
A better alternative to rentable bikes that may not function correctly or end up costing you more on a day-to-day basis than a bike of your own, electric folding bikes are not only a great way to get around, but they're good for Mother Earth, too.
The best part is that you can pedal for a nice workout or rely on the bike's internal battery to get you where you need to be if you would rather avoid getting sweaty.
Unfortunately, because of their cutting edge technology and folding parts, a quality electric folding bike bought from e bikes Canada stores isn't cheap, but if you get the right one and treat it right, you should be able to get years of faithful service out of your new folding e-bike. Keep in mind that you get what you pay for.
Why Get An Electric Folding Bike?
The benefits of an electric folding bike are numerous.
From their compact and folding nature that allows you to bring your bike with you, whether in the car or while you're on foot, to their rugged durability and reliable function, a folding electric bike is great for anyone that wants an electric bike without the fuss of storing such a large contraption.
Perfect for the office or a spare corner at home, an electric folding bike can go wherever you go without much of a fuss. Just fold the bike and it can fit easily in a trunk or next to you on the bus or subway, making it a great complement to your existing transportation needs.
Whether you want to ride a bike to the bus stop daily or you want to be able to jump in a car or head inside without locking your bike up, a folding electric bike makes integrating a bike into your life that much easier.
The best part is that an electric folding bike is often more durable than a standard electric bike because of their compact design while folded. When safely tucked away in a corner, a folding bike is much less likely to be bumped or suffer a fall, and you won't need to ever lock it up or store it outside, which helps keep all the components in working order day after day.
Additionally, because folding bikes are made to be folded down and carried, their joints and moving parts are actually reinforced and built to withstand whatever you can throw at it -- just don't throw the bike itself!
What Should You Look For In An Electric Folding Bike?
When shopping for an electric folding bike, it's important to know what you're looking at.
While most people are familiar with normal bike components such as wheels, disc brakes, handlebars and pedals, an electric bike introduces some new bits that you've probably never dealt with, such as an electric motor and a battery, and then there's the folding piece, which allows the bike to shrink down when not in use.

To extend the life of your ebike, make sure you lube the bike chain and have an ebike battery cover to protect your battery.
For most, it's all about that motor. The motor will get you up and over hills and allow you to keep up with traffic on busy streets without ever breaking a sweat. This is one reason why some of our customers prefer the mid drive ebike - they just have more power!
Bigger motors with higher wattage and more torque is what you want here, which will help you get going from a stop and keep things moving when you're trying to make it all the way home.
Most folding electric bikes use a hub motor, which puts the motor in the center of the rear wheel, though some e-bikes have motors in the front wheel, which can affect handling.
By moving the motor to the hub, you gain more real estate on the bike itself -- a good thing since the folding components make it difficult to mount the motor anywhere else, such as with mid-drive electric bikes.
But don't forget about the ebike battery. Without it, your motor is useless, and you'll want to choose a bike with the right battery for your need, otherwise you might only have enough juice to get you to your destination but not home, which can prove problematic if you don't have a reliable way to charge your bike while you're out.
For those who like to go long distances, consider our longest range ebike instead.
The determining factor of how big your bike will be when folded up is wheel size, so it's important to get the right wheel size for your needs. Most electric folding bikes come with 20-inch wheels, which strikes the perfect balance of portability and a comfortable ride.
Larger, 700c road wheels and smaller, 16-inch wheels are available in the foldable bike market, but you'll be giving up comfort (16-inch) or portability (700c) with both.
Indeed, while smaller wheels and a more compact bike may sound nice, hitting a pothole or another deformation in the road is much trickier with a smaller wheel, and larger wheels start to affect the bike's ability to be easily carried and stored.

Here at Rize, we're introducing the next generation of electric folding bikes that checks all the boxes when it comes to what you need out of a portable e-bike.
With the Bolt, Bolt X and Mini, you get all the bells and whistles that you'd expect out of a premium electric bike, without the excessively high price tag of some of our competitors.

With a larger, more capable motor than the 250-watt and 350-watt motors that are common on cheaper, lower-end bikes, the Bolt gives you 500 watts of propelling power in a powerful, rear-hub motor.
With an estimated range 60 to 95+ km with the larger, 17Ah, LG 48V lithium-ion battery, the Blade fits anyone from 5' to 6'2", and every small detail has been engineered to perfection to bring you the best possible e-bike at an unbeatable price.
For the Bolt X, which is an upgraded version of our best-selling Bolt, we beefed up the motor to 500 watts, giving you 50 percent more power and an estimated mile range of 55 to 80+ km miles with a standard 17Ah LG 48V lithium-ion battery.
The Bolt X comes also with hydraulic brakes standard, and fat, knobby, puncture-resistant tires that are great for mixed riding on the road and trails. Just as portable and foldable as the Bolt, the Bolt X is great when you want to add some off-road riding to your commute.
For the ultimate in foldability and compactness, the Rize Mini is your best bet. With a large 20Ah LG 48V lithium-ion battery and a strong, 500-watt rear-hub motor, the Mini can take you on a 60 to 95+ km trip without breaking a sweat.
And because it comes standard with knobby, puncture-resistant tires and hydraulic brakes, you can hit the trails and the road without worry. Unlike our other bikes, everything on the Mini folds up for maximum space-saving ability, including the frame, stem and even the pedals.
A robust fork suspension completes the package, giving you an aggressive or relaxed ride whenever you need it.
There's really no reason you should not consider riding an ebike in 2023. You don't even need a license to ride an ebike.
Learn more about our folding bikes by checking out the Bolt, Bolt X and Mini on our e bikes Canada store!