Why Buy an Ebike?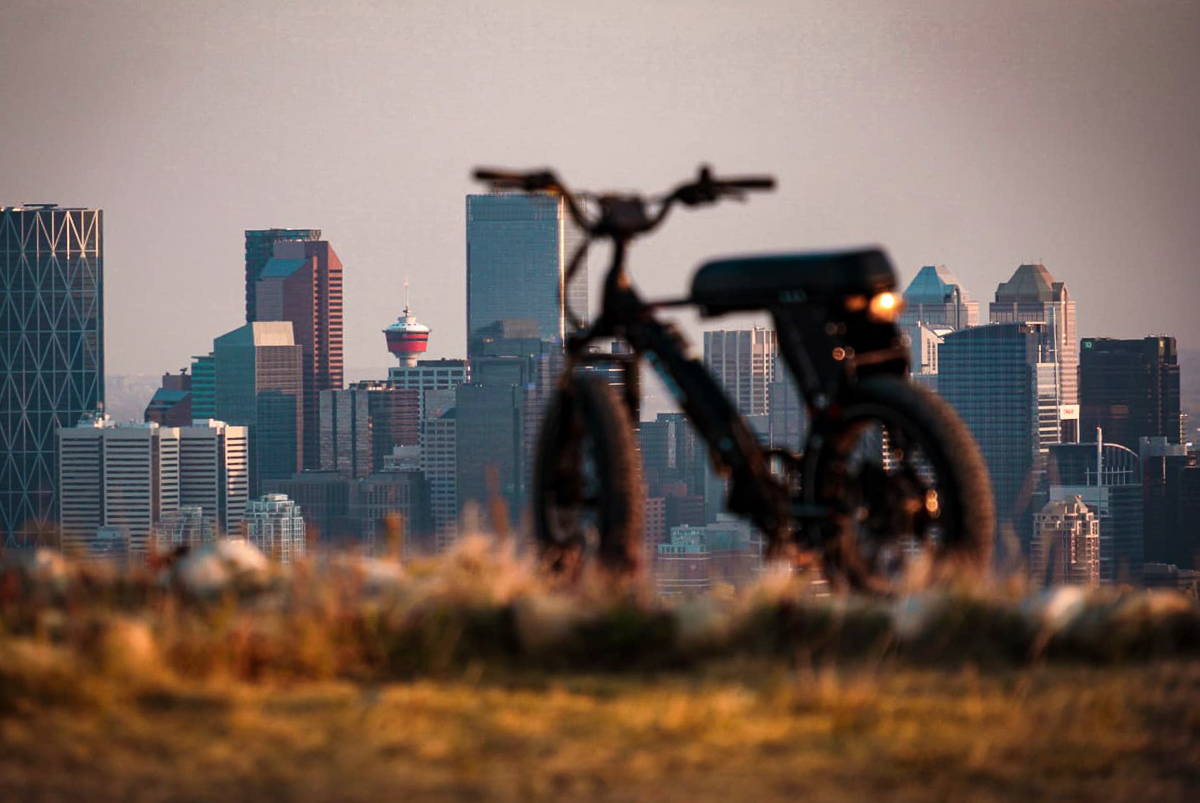 Why Buy an Ebike? Here are 7 Reasons To Do Just That
It's a new year and many of us have set resolutions and goals to accomplish in 2021. Keep reading to learn why you should buy an Ebike this year and how owning an electric bike is a great way to achieve many of the most common New Year's resolutions!
Resolution 1: Be More Deliberate With Your Time
Have you ever experienced the frustration of getting stuck in traffic or missing your train during your commute? That kind of experience can set the tone for your whole day and affect your general quality of life.
Riding an e-bike can make every day extraordinary and help you to be more deliberate with your time and energy. Rather than sit mindlessly in a car or on a bus, you can feel the wind on your face, have a memorable commute, and depending on where you live you might be able to leave cars and buses in your dust as you navigate the roads and bike lanes.
With more and more cities creating and expanding upon their bike lanes, it is easier than ever to ride your e-bike anywhere. By saving time commuting, you will have more time and energy to put into whatever excites you.
By making the deliberate choice of riding an Ebike for your health, the environment, or any other reason, you are making meaningful steps towards improving your life.
Resolution 2: Save Money
Ebikes are universally regarded as being a good investment and will save you money in the long-term. Electric bikes are cheaper to purchase than most cars, are inexpensive to charge and maintain, and will last for years.
Many e-bike batteries last for upwards of 1,000 charges and even at that point, batteries can be replaced to keep you riding without breaking the bank. Plus, if you are careful with your electric bike, you can increase its battery life.
E-bikes are also a good tool to help optimize your side hustle and there are countless ways to create more income from utilizing an e-bike. Between the money you will save on gas and car payments and the money you could earn from making the most out of your e-bike ride, buying an e-bike will put you on the right track to achieve your goal of saving money.
Resolution 3: Get in Shape and Improve Your Health
Riding an e-bike is a good way to work out and burn calories for people of all ages and abilities. Besides that, Ebikes are generally easier on your knees and joints compared with traditional cycling or other cardio exercises making riding an e-bike a safe and helpful option for older folks, people recovering from injuries, and everyone in-between.
Pedaling and maneuvering an e-bike will give you a small workout and your e-bike will allow you to ride further than you ever have before. One of the most important parts of getting into and staying in shape is being consistent and an Ebike can help with that.
Ebikes are a fun and exhilarating workout!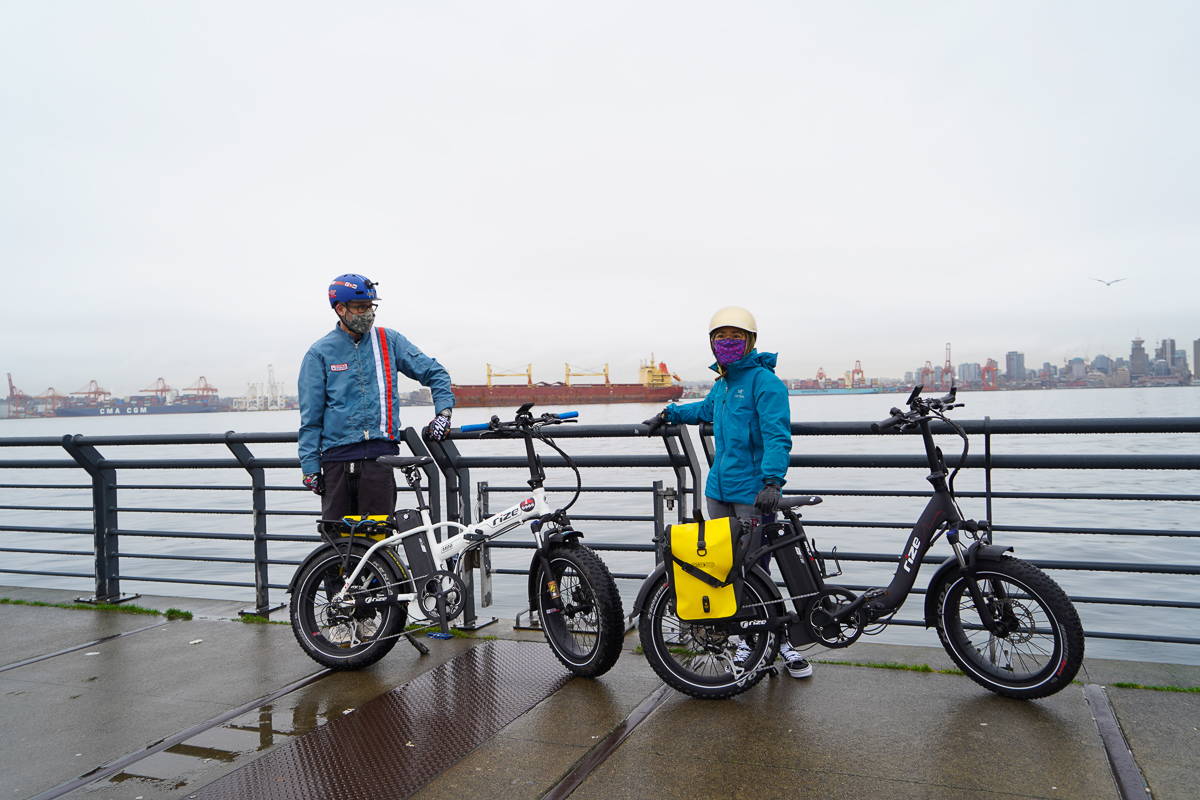 Paul Kusmin (above left) suffered a back injury that ended his mountain biking career in 2001. He said "I thought my cycling career was over since I couldn't pedal the same way...20 years later, in 2020 [I found] Rize bikes after much research. Ebiking has given me back that thrill of cycling at 50+ age that I thought was gone forever".
Resolution 4: Help the Environment
At Rize Bikes, we believe electric bikes are a revolutionary step towards a greener and healthier planet. Having visited and lived in cities with unbelievable traffic and pollution problems, we see a real need to get fewer cars and more green alternatives on the road.
By purchasing an Ebike, you'll reduce your carbon footprint by ditching your car, you'll use less gas, contribute less to traffic and congestion, and hopefully inspire others in your community to follow in your footsteps (or in your tire tracks).
Resolution 5: Get Outside More
With worldwide quarantine restrictions and stay-at-home orders, 2020 was a year that left many people feeling stuck inside. Buying an e-bike is a good way to make a major lifestyle change that will help get you outdoors and enjoying nature.
Thanks to the Ebike's motor, you can go for longer rides, explore new places, and experience new terrains. The Rize bike, for example, is a great bike to consider if you want to get outdoors more because it is excellent for road, trail, and mountain biking. With Rize city bikes, electric folding bikes, or the Rize Blade, you are sure to find an e-bike in our product line that is perfect for you and will help you get outside.
Resolution 6: Improve Your Mental Health
What do resolutions 1 through 5 have in common?
They are all ways to improve your mental health and will help you live a happier, less stressful life. Studies even show that e-bikes have the potential to improve the mental health and wellbeing of older folks.
What better way to get out of a rut or break a cycle of boredom than by getting your heart rate up and seeing some beautiful sites in your city or out in nature while riding an e-bike.
Resolution 7: Make 2023 the Best Year Yet
To make 2023 a better year, start by identifying the things that make you happy, figure out the goals that you would like to achieve and things in your life you would like to improve, and do your best to keep growing and keep going.
There are so many reasons why buying an Ebike is one of the best decisions you will make this year and we would love to get you out riding and experiencing the benefits of an electric bike as soon as possible.
We hope that you have learned a bit more about why you should buy an electric bike and how you can use your e-bike to achieve your 2023 goals! Happy New Year!